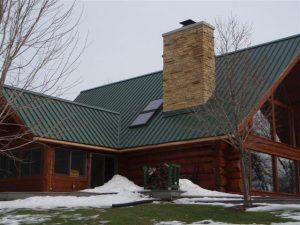 The most popular choice in roofing material has always been shingles, so more and more homeowners are considering metal slate roofing with its popular, environmentally friendly materials for many reasons. Metal Roofing Systems offers some of the best systems on the market and we install residential roofing and roofing for houses of worship/churches (and flat metal commercial roofing) throughout Southern Wisconsin.
One of our most popular styles is the Oxford Shingle, which is a metal slate roof with a "Kynar/Hylar" finish, and is available in many colors.
We're often asked what the benefits are to purchasing a metal roofing system for a home, business or house of worship, which is why we put together the following list.
7 Good Reasons to Buy a Metal Slate Roof
Slate metal roofing materials are natural and abundant
A slate metal roof has a classic, elegant and beautiful appearance
Metal slate roofing can be formed, styled, printed, colored and stamped to match the look of your home and its architectural style
Slate metal roofing is energy efficient, saving the homeowner up to 40% on their energy cooling bills
Metal slate roofs are completely low maintenance other than removing debris on the roof from storms
Metal slate roofs are durable and can stand up against the elements; Low temperatures, lots of moisture, direct sunlight and high winds do not have much of an effect on slate metal roofing
Slate metal roofing will last as lifetime … up to 50 years or more so you get a great ROI (return of investment)
Metal Slate Roofing Outlasts Asphalt Shingles
Even those in the metal roof industry will admit that, on average, metal slate roofing can initially cost significantly more to install than asphalt-shingled roofs. Conversely, you should also consider that in the same 50 years of having one slate metal roof installed, an asphalt roof would have to be replaced at least 3 times. For this reason alone , in the long run , a slate metal roof could actually save you money.
Modern slate metal roofing styles range from more traditional metal panels and shingles to metal that is made to look like tile or wood. It comes in a wide variety of colors and finishes. Whatever the architectural design of your home is, there is slate metal roofing that will compliment its appearance.
Contact Metal Roofing Systems with questions, or to request a quote for a slate metal roofing system!
Call Toll Free: 1-855-678-ROOF (7663)
In Madison, WI: 1-608-663-2687
In Milwaukee, WI: 414-727-1810